It's been proven that spending time in nature helps ground us. To that end, a group of war veterans are heading out on the Appalachian National Scenic Trail to "Walk Off the War."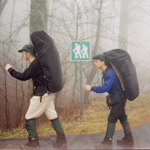 The Appalachian Trail Conservancy, in partnership with Warrior Hike, Operation Military Embrace, the Military Family Lifestyle Charitable Foundation, the Veterans of Foreign Wars, and the Appalachian Long Distance Hikers Association, has launched an initiative called the "Walk Off the War" program. This program will provide 13 military veterans the opportunity to reconnect with the United States in a uniquely physical and psychological way – a fully funded scholarship to hike the Appalachian Trail.
The objective of this program is to provide thes veterans a self-directed, self-paced journey along the A.T.
Hiking the trail provides the opportunity to eliminate the negative effects of the war, through walking in nature, engaging with other hikers, and experiencing the hospitality of the trail towns along the A.T.
In the end, the goal is to return these soldiers back into civilian society with the greatest opportunity for success in their personal and professional lives.